BBVD-3801
1200Mbps 11ac VDSL2/ADSL2+ Gateway
The BBVD-3801 is a highly integrated VDSL2/ADSL2+ WiFi Gateway. It comes with high performance dual band 1200Mbps 11n/ac wireless network and 4 ports Gigabit Ethernet switch. The GigaWAN port can easy fit in FTTH enabler market. Our product can provide customer more WiFi coverage plus high-speed xDSL service in one box.
The BBVD-3801 offers throughput speed up to 100Mbps downstream and upstream over existing copper telephone line. It gives the best user experience to navigator Internet, watch online video and contact with friends never stop.
In an effort to make BBVD-3801 as easy to use as possible deploy and use. Flexibly remote control interface makes carrier operator easy to management BBVD-3801 on the fly.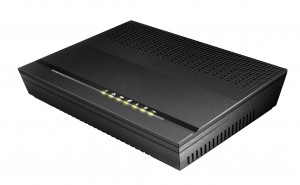 4 x 10/100/1000Mbps RJ-45 LAN ports
1 x RJ-11 WAN port
1 x Gigabit WAN port
On/Off power button
2.4GHz 2×2 300M/5GHz 2×2 867M 11ac
Dual internal 2×2 11n/ac ANT(Option EXT)
Supported IEEE 802.11 b/g/n/ac devices
WiFi Security WEP,WPA,WPA2
WPS easy pair button
1 x USB host for samba share
VDSL2 8a,8b,8c,8d,12a,12b,17a, and 30a profiles supported
ADSL/VDSL2 annex A,B,I,J,L and M supported
Support TR069 remote management
uPnP IGD
IPV6 Ready
WAN Interface
PPPoE clients with automatic redial and dial-on-demand
DHCP client with automatic address renewal.
Capable of having a static IP address on WAN port
Dynamic DNS: Dyndns.com

LAN Interface
Configurable DHCP server with DHCP reservation
DNS relay/proxy

Gateway and Security
Network Address Port Translation (NAT/NAPT)
Port Forwarding: Forwarding ranges of ports traffic to specified LAN host
Application rule (trigger port): Automatically adding in-bond port forwarding rule which is triggered by rules
MAC filtering
IP Filtering: User Policy control, denies certain PCs access to certain services by specifying the IP addresses and TCP/UDP ports
Parental Control: Web content filtering
Routing
Static Route
Dynamic Route: RIP1, RIP2
Display current routing table
Advanced Networking
UPnP IGD
NAT ALG: VPN Pass through for IPSEC, PPTP, L2TP and compatible with Microsoft's VPN client, MSN Messenger, FTP, H.323 (NetMeeting), RTSP.

xDSL Compliance
Duplex Method: DMT
VDSL2 standard ITU-T G993.1 and G993.2
VDSL2 profiles: 8a,8b,8c,8d,12a,12b,17a and 30a
Support Annex A and Annex B
Upstream/Downstream 100/100Mbps
ADSL standard 1/2/2+ include Annex A,B,I,J,L and M

Management
Setup Wizard
Web-based Configuration (HTTP, HTTPS)
SNMP management
Different Web UI by different user level
Configuration backup and restore
Firmware upgrade
Access to Web interface from the WAN
TR069/TR098/TR064/TR143/TR111 supported
System log with different debugging & error message and event and e-mail notification
NTP to synchronize device time to NTP server

Wireless LAN Interface
IEEE 802.11b/g/n Compliance
Channel configuration
Wi-Fi Security: WEP, WPA, WPA2
Advanced Wi-Fi interface configuration: Fragmentation Threshold, CTS/RTS Threshold, DTIM, Beacon Interval.
WPS
WMM
SSID Broadcast
LEDs
Power, Internet, DSL Online, Wi-Fi 2.4/5GHz, WPS, LAN, USB
Buttons
Power On/Off, WPS, Reset Pin Hole
Environmental Specifications
Operation: 0° ~ 40°C (32°F ~ 104°F)
Storage: -10° ~ 70°C (14°F ~ 158°F)
Humidity: 20%~90%(non-condensing)
Physical Specifications
Dimensions: W222.7 x D145 x H36 mm
Weight: 330g

Power Requirement
12V DC, 2A
AC Adaptor 100~240V 47~63Hz

Certifications
CE
FCC